A custom home in Nanoose Bay connects to the coastal wilderness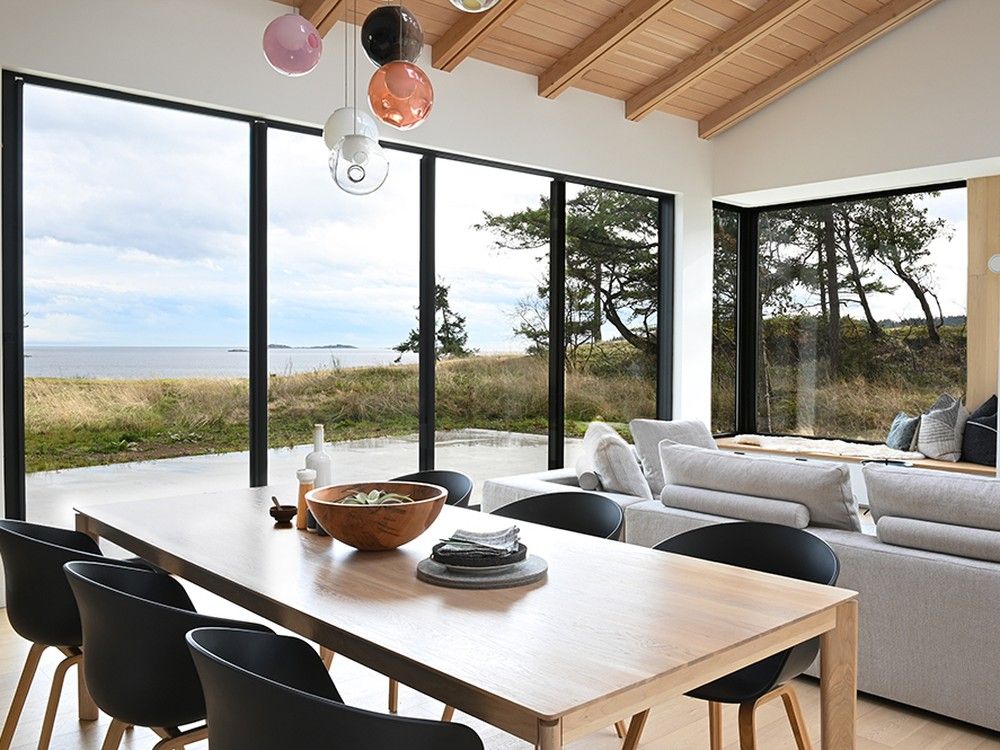 "We tried to keep every single tree that we could keep and to work with the natural curves of the property."
Reviews and recommendations are unbiased and products are independently selected. Postmedia may earn an affiliate commission from purchases made through links on this page.
Article content
Indoor-outdoor spaces are having a moment lately. But sometimes, the "outdoor" part of the equation is wilder than others.
Article content
For her family's custom build on a rocky coast in Nanoose Bay, designer and homeowner Lindsay Steele wanted a home with an indoor-outdoor feel, "very much connected to nature" – and disturbing the pristine natural landscape as little as possible.
Article content
"We tried to keep every single tree that we could keep and to work with the natural curves of the property," she says.
Steele's family moved from Vancouver in 2018, trading a loft on Granville Island for life on Vancouver Island. At first, they didn't think a waterfront property was in the cards. But they were pleasantly surprised to discover their dream parcel of land, right at the ocean's edge. "We found this lot and completely fell in love with it," says Steele.
She enlisted architect Mark Simone, of Shelter Residential Design, and builder Alair Homes, who were able to design and build the three-bedroom, 2,800-square-foot home with minimal excavation and impact on the rocky, sloped site.
Article content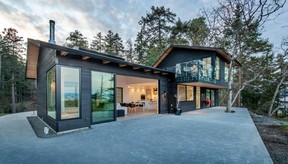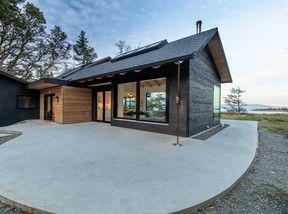 One potential casualty was a large Garry oak, growing in the middle of a zone destined for a patio. "We assumed it would have to go, but as we built the house, we just said, just leave it and see," recalls Steele. By carefully pouring concrete around the trunk and leaving an open spot, Alair was able to retain the tree. Today, it's thriving; lending a leafy frame to the upstairs bedroom window and attracting a steady stream of birds.
The wilderness-surrounded site presented other building challenges, too, including strict rules to protect wildlife. "We were only allowed to excavate between September and February because of the eagle nesting," says Alair regional partner Chiara Sulyok. "There's a beautiful regional park right next to the house . . . and a lot of people use that side of the park to get to the ocean to Scuba-dive." That meant tight timelines for all machine work.
Article content
Inside, the home is clean and contemporary, with touches of fir and oak giving a warm and naturalistic feel. "We definitely wanted an open space for the kitchen, dining room and living room. And something really efficiently designed – there's no wasted space in our home," says Steele.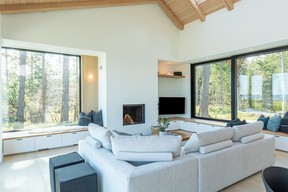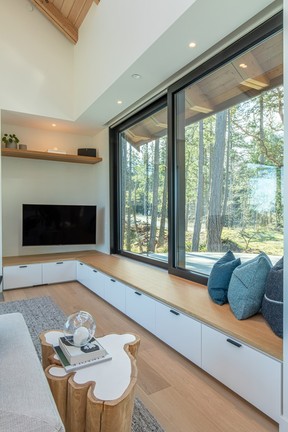 In the living-dining area, ridge skylights brighten vaulted ceilings with timber-frame beams. "It's not a really big home, but we feel like it's super, super spacious because of the high ceilings in the living room, and the open kitchen, and all the big windows that open quite wide," she says.
Said windows surround the living space – floor-to-ceiling on the ocean side and partial-height above a built-in wraparound bench on the opposite. All roll open to expose the space near-fully to the outdoors.
Article content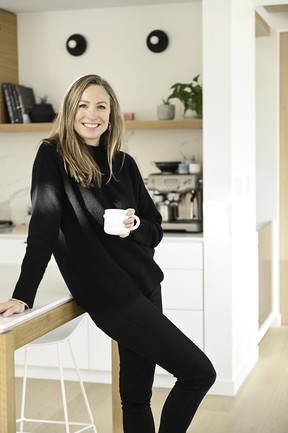 The bench is one of Steele's favourite features. "I just love window benches. I knew [this one] would be really handy with the kids," she says. "We sit there and do puzzles, and have the storage underneath. . . . It just adds so much seating without taking up a lot of space." Plus, when the windows are open, it becomes indoor-outdoor seating: "We have that open if it's a nice day, and the kids are jumping up and running around, back and forth through the window, which is kind of fun."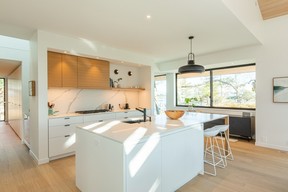 Steele's goal for the kitchen was to create a light, bright and clean-lined space laid out to fit as large an island as possible, while also accommodating a dining area where the family could sit together and eat. A hood fan concealed behind millwork, integrated appliances and flush-set cabinetry reduce visual clutter.
Article content
A floating staircase leads to a second storey on the home's north side. "One of the features that my husband really pushed for was to have our [main] bedroom on the top floor, where I was leaning toward a rancher-style layout," says Steele. "Now that we have our bedroom up there, with the view, it's really incredible. It feels like we're in a tree house."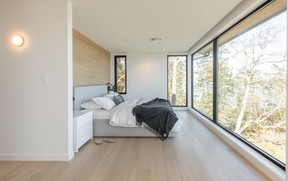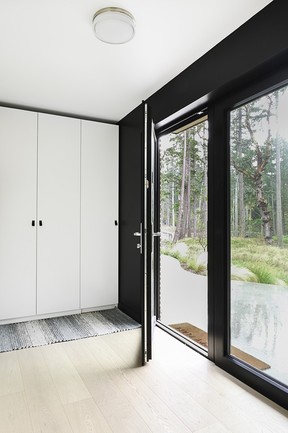 Upstairs, all sightlines point toward the view. Bedroom window blinds retract seamlessly into the ceiling to keep views unobstructed. In the ensuite, a dreamy soaker tub perches in front of a window laced with arbutus branches.
Construction of the home wrapped up in 2021, and the family has been happily settled there since. They still have a few projects on the go, like planting a garden and building a guest house on the neighbouring lot, which they also own.
Article content
The location has proven perfect for not only living, but working, adds Steele, who runs a home-based business providing coaching to fellow designers: "Yesterday I had a meeting here, and there were three deer playing in the backyard, just jumping around. And one time I counted 40 eagles on our lot," she says. "We love being on this piece of land."
Design: Lindsay Steele, Motto Interior Design
Architecture: Mark Simone, Shelter Residential Design
Construction: Alair Homes
Classic 1970s post-and-beam home revitalized for ultimate indoor-outdoor living

Cool greys, blues and whites key to capturing that coastal vibe