Mass timber a key building block for lower-emission construction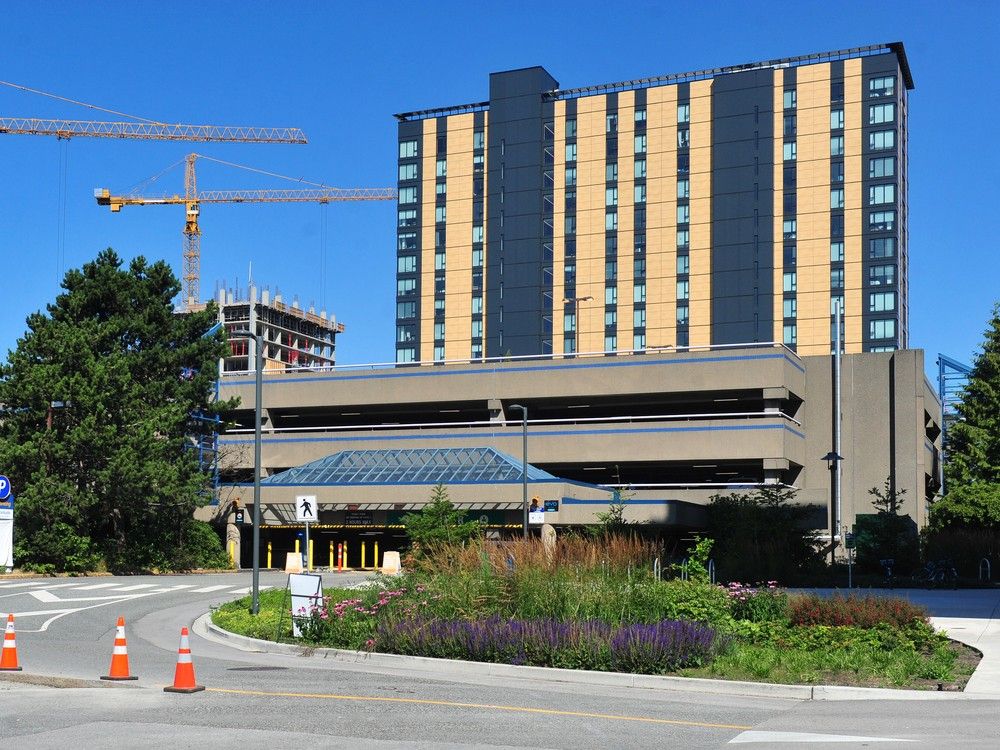 Opinion: New buildings will emit far fewer greenhouse gases if we maximize the use of engineered wood from new growth forests sustainably harvested in B.C.
Article content
To meet the demand for affordable housing, Canada will need an additional 3.5 million housing units by 2030, a volume of construction activity that could easily compromise our ability to deal with the other priority of our age: the climate crisis.
Article content
To achieve both our housing and climate goals, the B.C. government is investing in the rapid growth of mass timber and construction manufacturing. B.C. is projecting the global engineered-wood sector could be worth $400 billion by 2027. Greater public and private investments in growing this sector can lead the way to reducing greenhouse gas emissions and building better housing more quickly.
Article content
Mass timber uses state-of-the-art technology to glue, nail, dowel and press ordinary lumber together in tight layers. The results are large structural panels, posts and beams that are lighter than steel and as strong as concrete. And the climate benefit? Trees breathe in carbon and exhale oxygen in the atmosphere, both of which are pretty good for all of us who survive by doing the opposite. Like trees, mass timber locks in large volumes of carbon for generations.
Article content
Mass timber demonstration projects have proven that wood structures can safely reach great heights. Since the 18-storey Brock Commons demonstration project at UBC was completed in 2017, the mass timber industry has surged forward with over 285 tall timber buildings planned or completed in 2020. And we are just getting started.
Rapidly joining the maturing mass timber industry, prefabrication is finding its legs. Far-sighted builders who design with the end of a building's life cycle in mind, know prefabrication is the best way to facilitate deconstruction and reuse of materials.
New industry players propose to deliver large, prefabricated building components to a site, ready for stacking like building blocks. Many steps in the convoluted process of building apartment buildings can move to an assembly line, thus harnessing the speed, power and efficiency of manufacturing despite labour shortages. Hello industrial age, a century later than in most other sectors!
Article content
When a new land use is called for, decades later, the structure can be dismantled. Building components can then be refurbished and repurposed on another site where the same carbon is kept locked in the wood structure for a few more generations.
This overdue convergence of mass timber and prefabrication makes sense now, and here in B.C. more than anywhere else in North America. Building taller using wood, a local, natural, renewable and biophilic material means far fewer emissions.
Engineered wood is an ideal way to displace traditional materials and methods that require mining and carry a heavy carbon footprint. Climate-responsible forestry and good stewardship of our forests are the means to a nature-based way of building more housing more quickly and support jobs in the forestry sector. Integrating computer-aided design in the fabrication process also matches the aspirations of youth entering the labour market with the education and desire to become full-time knowledge workers in a modern industry.
Article content
New buildings will emit far fewer greenhouse gases if we maximize the use of engineered wood from new growth forests sustainably harvested in B.C.
It's time to retool and rebuild the construction industry. It's time to get recycling from under the kitchen sink and foster a circular economy on a grand scale, a circular economy the size of an 18-storey tower. Mass timber will help us accelerate the delivery of new housing and provide jobs and climate benefits.
Gaetan Royer is an innovative urban planner and CEO of Massive Canada.
Alex Hemingway: Why Canada still needs a wealth tax — and what it could fund

Michael Zwaagstra: Plight of unique Vancouver school underscores need for choice