Q Construction building in East Vilage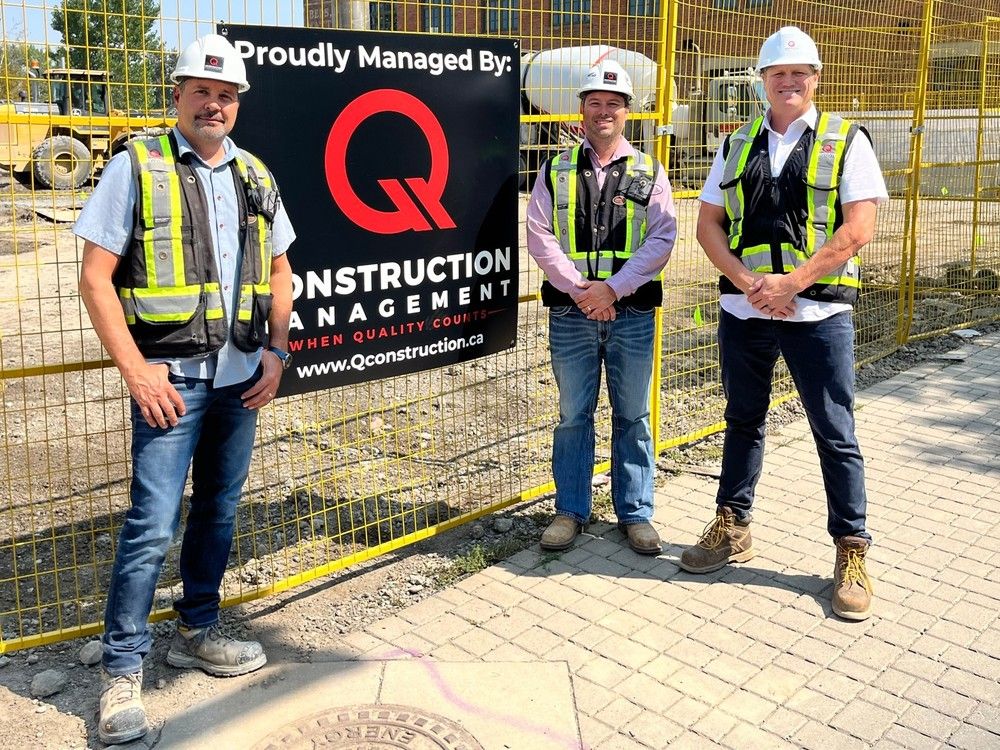 Article content
Launching your own company takes a lot of thought, a lot of courage and a lot of nerve. It also needs encouragement, and Greg Landry found that in his friend Steve King, who became his partner in Q Construction Management that they formed together in 2017.
General manager Landry, who took computer technology at SAIT, but then switched to urban land economics at UBC's Sauder School of Business and earned a project management professional (PMP) certification.
Article content
Before starting Q Construction, Landry was construction manager at Lear Construction, and over the past 20 years in the industry here was with Crystal Creek Homes and Homes by Avi.
King is an entrepreneur who got to know the trades through homebuilding ventures, but had also owned an auto body shop and created and sold his company supplying industrial strength waste bags in support of the construction industry.
As owners of a new construction company, Landry and King started with small projects such as home garages, and offered construction consulting.
Today, the partners have a busy staff of 20 in Calgary plus supervising a local crew in the Okanagan.
At Lear, Landry worked alongside director of development Jason Elvy, who has since joined Q Construction in the same role. Relationships are so important in seeking new projects and it is through Elvy's personal contact with a Calgary developer that his new company secured the job of building McKay Grove Townhomes, 15 two-storey units in Peachland, B.C. along the lakeside highway.
Q Construction has also been busy with commercial projects in the B.C. communities of Kelowna, West Kelowna and Vernon, using local crews supported by the Calgary office.
Article content
In Calgary, its crews have begun working on an exciting construction project on a prime corner of East Village.
Developer Alston Properties of Winnipeg had been a landlord in Calgary for around 15 years with seven residential properties in the Beltline, but this project is its first new build in the city.
The site is at 606 Confluence Way, adjacent to the west side of the Simmons Building. Previously a parking lot, work has begun to transform it into a six-storey building of a floor of retail and 44 apartment units sloping down from Confluence Way to the popular RiverWalk.
Later this month, the first occupants of an Aboriginal Friendship Centre of Calgary elder's lodge will be welcomed to the 12-unit independent living building on 34th Street N.E., adjoining Barbecues Galore.
Tenant improvement was, and still is a good part of the business, but construction of new buildings has become an increasingly important focus. An early project was The Beverley, a 35-unit residential five-storey apartment structure on 23rd Avenue S.W. in Mission. Q Construction was called upon to complete Windsor, a mixed-use building of retail and 107 residential units for Arlington Group in Britannia.
Article content
Also currently under construction is Skyview Estates, 99 units in a four-storey building in Skyview Ranch, for a local private developer. And the company has been supporting pre-construction on a downtown highrise office conversion.
The like-minded friends have done well in their joint venture, fuelled by running a lean operation and working with small developments and ownership groups. Landry says the future looks good, both here and in the Okanagan, and he fully expects he will be ramping up by adding more industry professionals early in 2024.
Notes:
• JLL reports that there is an increased demand from investors in the Alberta real estate market, an appetite demonstrated by the sale though its JLL Capital Markets of a 41-storey multi-family tower in the downtown. A highrise at 825 8th Avenue S.W. comprises 343 rental units and 6,000 square feet of main floor commercial space that JLL closed for $83.4 million, the largest multi-family deal in the market in the past year.
• Olds College of Agriculture and Technology continues to develop important partnerships to drive innovation in Canadian agriculture. An agreement has been signed with Nufarm Agriculture to collaborate in the research, development and testing of agricultural technologies and products at the Olds College Smart Farm. It marks the first Nufarm technology development station in Canada by the world leader in crop protection and seed technologies.
David Parker appears regularly in the Herald. Read his columns online at calgaryherald.com/business. He can be reached at 403-830-4622 or by email at [email protected]