Rhode Island Salt Box House Decorated for Christmas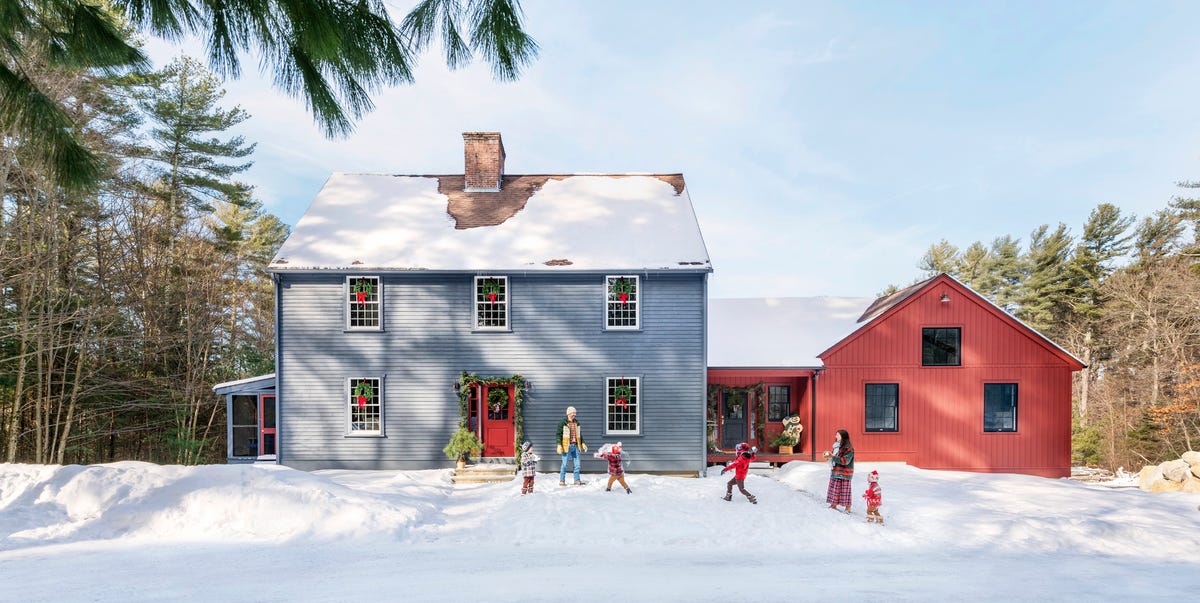 Nat Rea, styling by Matthew Gleason
It all started with a dollhouse. "That's how I learned to love Colonial-style architecture," says Jennifer Barone. "I was 7 when I got my saltbox-style dollhouse for Christmas. It's still at my parents' home and the kids love it." So when she and her husband, Nicholas, first laid eyes on a charming saltbox house in Pascoag, Rhode Island, in 2013, Jennifer knew instantly that it was the one. "I said, 'This is it'—we didn't look at any other houses."
Besides being situated on 12 country acres complete with a retired cranberry bog (now home to a family of beavers), the house was filled with delightful details that made Jennifer's heart skip a beat. In addition to a fireplace built from salvaged brick, the ceilings were covered in rustic reclaimed beams from an old mill, and the wood floorboards were made from pine trees that were cleared from the property. And then there was the open-yet-cozy floor plan: "I knew it was perfect for hosting holidays," Jennifer says. "I pictured having the fireplace going and the kids gathered around the tree singing 'Jingle Bell Rock,' a family favorite."
While having ample open space is an everyday necessity for the Barone family, which includes Lester, Russell, Waylon, and Flora, it's essential come Christmas Eve, when Jennifer and Nicholas play host to both sides of their extended families, welcoming up to 20 guests into their home. (Santa even makes a cameo.) If they're lucky, the flurry of activity indoors isn't the only flurry to be found come Christmas morning. "We don't always see snowfall on Christmas," says Jennifer. "But when we do, we're over the moon."
Advertisement – Continue Reading Below
Decking the Halls (and Mantels)
Chopping down the Christmas tree is an annual tradition for the Barones, who head to Allen Tree Farm in Connecticut every year in search of a suitably sizable fir. "We like a jolly, chubby tree so we can fit on a lot of ornaments," Jennifer says. A mix of handmade and hand-me-down baubles festoon the tree, which is topped by a DIY copper star and ringed with DIY copper chain garland. To cut down on confusion come Christmas morning, Jennifer assigns each kid their own wrapping paper pattern.
RELATED: DIY Christmas Ornaments Your Family Will Treasure for Years
Custom-made by a local craftsman, the 8-foot-long wood dining table and matching bench were designed to accommodate a crowd, which comes in super-handy during the holidays. To center the chandelier above the extra-large table without requiring expensive rewiring through the chunky beams, Jennifer used matching black iron chain and a hook to get the round light's placement just right. A mix of new and old black chairs rounds out the seating assortment. For more festive mealtimes, Jennifer forages evergreen clippings from their land to decorate the windows and chandelier. A vintage Santa monitors the family's naughty-nice status.
Get the Look:
Chandelier: Shades of Light
To make the kitchen more fitting and functional for their large family, the Barones painted the formerly brown cabinets white and installed a larger island. The floors, which visitors often mistake for brick, are actually wood two-by-four boards cut into rectangles. In the days leading up to Christmas, the room—which houses Jennifer's collection of antique copper—fills with the scents of baking cookies and spice-filled simmer pots. But on Christmas morning, it's all about the aroma from Jennifer's homemade sourdough cinnamon buns. An antique whiskey jug, part of a larger collection, holds evergreen branches from the property.
Get the Look:
Cabinet Paint Color: Vanilla Milkshake by Benjamin Moore
Rug: Ruggable
Landscape-Happy Drop Zone
Jennifer found the mudroom's chippy green cabinet at the Brimfield Antique Flea Market and topped it with some of her vintage landscapes. The painting of the thatched-roof dwellings, which was another Brimfield find, used to hang in Jennifer's parents' house.
Topped with vintage paintings and thrifted baskets, metal lockers —adorned with eucalyptus wreaths during the holidays—are an ideal spot to tuck away coats, boots, and mittens. The custom red barn-style Dutch door and antique Kazak rug brighten up the space, while the antique-looking brick flooring gives a nod to the reclaimed brick in the living room.
Get the Look:
Lockers: RH
Dutch Door: Rustica
Antique Rug: Upstate Rug Supply
Brick Flooring: Old Mill Thin Brick Systems
Lester and Russell play games in their room, which houses the barn-inspired canvas-tented bunk beds and a Windsor chair that once belonged to Nicholas's grandfather. A handmade paper chain is all the decoration the room's plump Christmas tree needs.
Get the Look:
Bunk Beds: RH Baby and Child
Striped Pillowcases: Bed Bath & Beyond
Part of the home's new addition, the main bathroom features an antique-style black claw-foot tub paired with black hexagonal tile flooring. A whitewash stain on the planked walls allows the wood grain to show through.
Get the Look:
Claw-Foot Tub: Vintage Tub & Bath
Tile Flooring: Home Depot
In the primary bedroom, an assortment of vintage landscapes holds together visually thanks to Jennifer's strict selection filter: "I know a painting is good if it looks like a place I'd like to live!" she says. Come Christmas, a lush wreath is added to the mix. Flanking the farmhouse-style iron bed are mismatched vintage side tables that play host to a grouping of old whiskey jugs and amber glass jars. A weathered bench found at a local antiques store adds a festive hit of red.
Get the Look:
Iron Bed: L.L. Bean
Hanging Tapestry: Anthropologie
Red Plaid Pillows: Home Depot
RELATED: Bedroom Colors That'll Make You Wake Up Happier
The basement kitchenette was crafted from reclaimed wood the previous owner left in the barn after building the house. Jennifer found the 1929 sink for just $50 at an architectural salvage market in Connecticut. She finished the space with a retro-style mini fridge and more of her vintage paintings.
Get the Look:
Mini Fridge: Wayfair
Jennifer and Nicholas, along with their children, Lester (8), Russell (6), Waylon (5), and Flora(3) and black Labrador, Puka.
Get the Look:
Red Paint Color: Maple Leaf Red by Benjamin Moore
Tour More Holiday Houses!
Advertisement – Continue Reading Below