Saskatoon design duo share intimate peek into River Landing penthouse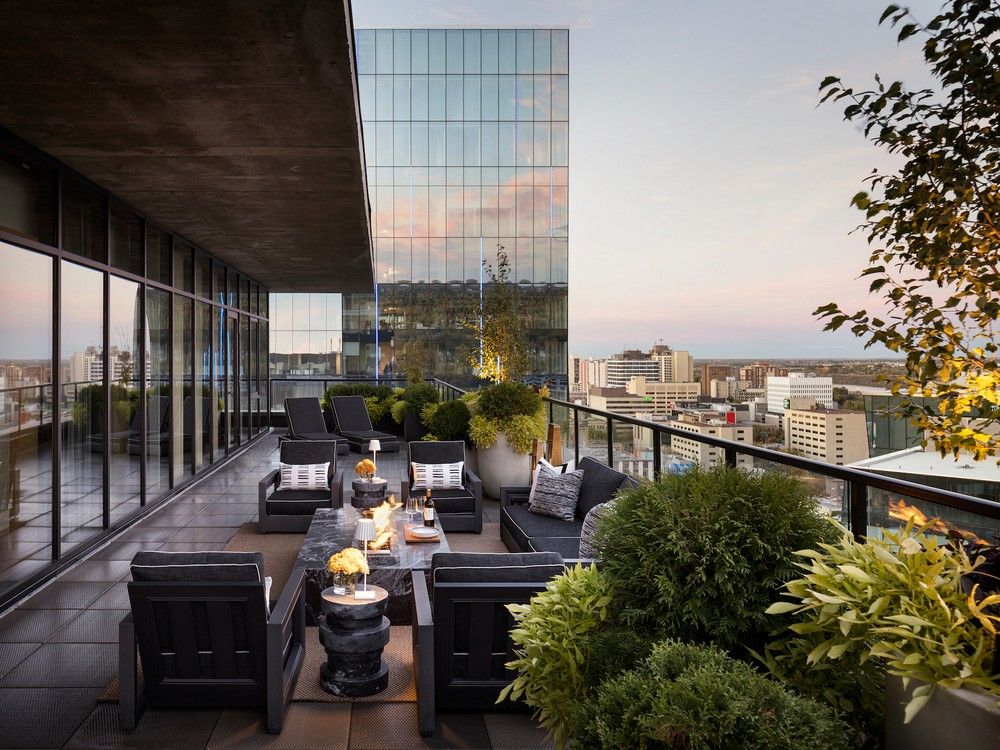 Trevor Ciona and Curtis Elmy of Atmosphere Interior Design reveal the inspiration behind their stylishly designed home at Saskatoon's most coveted address: No. 1 River Landing
Reviews and recommendations are unbiased and products are independently selected. Postmedia may earn an affiliate commission from purchases made through links on this page.
Article content
Atmosphere Interior Design's Trevor Ciona and Curtis Elmy have had their work featured in magazines such as Western Living, Style at Home and House Beautiful from Australia. Their contribution to the Canadian design conversation continues to grow with each passing year.
Article content
Recently Ciona and Elmy debuted the final reveal of a very special project — their penthouse suite at No. 1 River Landing. Located along the riverbank next to the Remai Modern and Persephone Theatre, the glass-clad residential tower is right in the thick of downtown Saskatoon.
Article content
Given the coveted address, the palatial space, and their reputation, the pressure was on to create something truly special. However, Elmy notes they tried to keep focused on what really mattered instead of creating a showpiece. "Ultimately, what do Trevor and Curtis love?" says Elmy.
To begin designing such an amazing space the pair found two design elements they loved — a unique blond herringbone flooring and stunning black cabinetry with a white oak wood grain. Everything else would be built around these building blocks.
Article content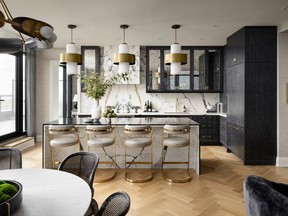 The contrast between the elements could become harsh or boring, but Elmy notes they incorporated shades of charcoal and warm brushed brass and careful use of textures and patterns to keep either from overwhelming any room.
Something they considered was how to keep the ebony cabinetry from becoming heavy and dark. As a solution, the cabinetry was finished with a wash of white paint which settled into the wood grain, giving it a little texture and keeping the black colour from becoming overwhelming.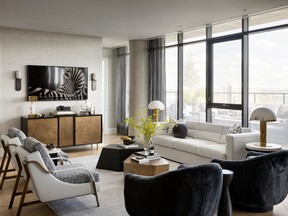 "I think it's the most powerful design element in the whole kitchen. It's strong and bold without being dark and heavy," says Elmy.
Ciona and Elmy incorporated natural stone as much as possible. For anyone looking for a distinctive look, natural stone can't be duplicated, so homeowners will know they have a one-of-a-kind piece.
Article content
Loft spaces, such as No. 1 River Landing, are often very dramatic with high ceilings. For the penthouse, the original 12-foot ceilings were lowered to hide the industrial features such as venting and wiring. The lower ceiling and hidden hardware keep the space sophisticated yet inviting.
"I think the sweet spot is in that nine to 10-foot range. Because it gives you lots of room to have art or do other things on your walls, but it does give a warm cozy feeling to the space," says Elmy.
Atmosphere Interior Design is known for adding texture to a space and this home is no exception.
Elmy notes there isn't one painted wall in the entire penthouse. The couple incorporated various wallpapers or tiles to give each room its own personality. There are bold choices, such as the hand-painted wallpaper design in the bedroom, but also a softer linen weave paper in the main living space.
Article content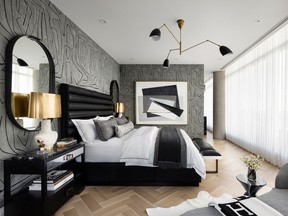 "We didn't want it to feel formal. That wallpaper actually helped tone down some of the flashier items that we've used," says Elmy.
He adds, that people often get scared of pattern play, but it's a powerful tool in design to create 'wow' moments. "Sometimes I have to remind people, in a larger scale and in real life, patterns become quieter for the most part."
Perhaps one of the biggest lessons for the pair in designing their own home was persistence and patience. Sometimes it takes a while to find the perfect piece. Such was the case with the sumptuous shearling tub chairs in the living room. The fabric invites a tactile experience with Elmy reporting visitors often end up petting the chair as they sit and visit. The upholstery is also extremely durable which fits with their desire to have things be pretty and functional.
Article content
The conversation pieces were "absolutely the perfect choice" according to Elmy, despite the long wait.
One of the suite's most notable features still gives Elmy pinch-me-I-can't-believe-I-live-here moments. The floor-to-ceiling windows give spectacular river views from almost every room. Those views become expansive when you step out onto the 1,300-square-foot terrace.
The bird's eye view of the pretty river valley and stunning Saskatchewan sunsets set the location apart. It's also given Elmy a new appreciation for the city and how much it's changed.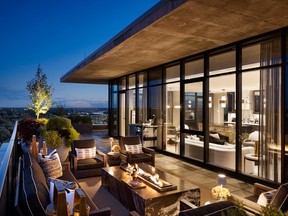 No matter what they're designing, Elmy says it needs to feel like home for someone. And that will look and feel different for everyone depending on their lifestyle, their stage of life and their personality. It's clear wherever design work takes the design duo, they have a stunningly stylish space to call home in the city they love.
New food and wine festival comes to River Landing

Gary Marvin: River Landing site still best for new Saskatoon arena
The Saskatoon StarPhoenix has created an Afternoon Headlines newsletter that can be delivered daily to your inbox so you are up to date with the most vital news of the day. Click here to subscribe.